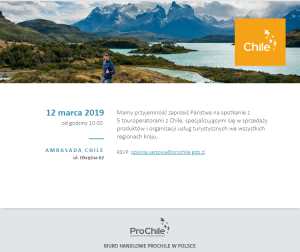 Business Round
Tourism Industry in Chile
ProChile Poland
Companies Information

1. Antarctica21 Chile, Antarctica.
2. Flecha Extrema Chile, Bolivia.
3. Quimbaya Latin America Argentina, Bolivia, Brazil, Chile, Colombia, Costa Rica, Ecuador,
Guatemala, Mexico, Panama, Peru.
4. Turismo Milodon Santiago, Patagonia, Atacama Desert, Lakes & Volcanoes Zone, Easter Island.

1. Antarctica 21
Contact: Nicole Krumrey
Position: Market Manager EMEA
Mail: nkrumrey@antarctica21.com
Phone: (+33) 621 198 118
Web: www.antarctica21.com
Address: Pedro de Valdivia Norte 0129, Of. 202, Providencia, Santiago, Chile
Products to offer:
 Antarctica Fly and Cruise Expeditions
 Kayaking in Antactica
 Hiking and Snowshoeing in Antarctica
 Boutique wilderness adventures in Antarctica
 Accomodation and Transfer Package at Cabo de Hornos Hotel
About the Company
Antarctica21 is a Member of the International Association of Antarctica Tour Operators (IAATO), a member organisation founded in 1991 to advocate, promote and practice safe and environmentally responsible private-sector travel to the Antarctic.
History: In 2003 Antarctica21 pioneered the Antarctic air-cruise model. Our founders were motivated by a desire to make Antarctica accessible to those who wanted to avoid the stormy Drake Passage. Through constant development and innovation, Antarctica21 pioneered what is now the fastest-growing segment of Antarctic tourism.
Style and Philosophy: Antarctica21 is a boutique specialist focused on the design and delivery of adventurous yet comfortable small-scale expeditions. Antarctica21 aim to offer their guests the optimum balance between active exploration of the remote Antarctic environment and a high-quality hospitality experience.

2. Flecha Extrema
Contact: Victor Troncoso
Position: General Director
Mail: contacto@flechaextrema.cl
Phone: (+56) 9 65 61 72 77
Web: www.flechaextrema.com
Address: Padre Mariano 391, Oficina 704, Providencia, Santiago, Chile
Products to offer:
Day Tours (around Santiago):
Multi-Day Tours (Central, South and North Chile)
• Trekking
• San Pedro & Uyuni (Bolivia)
• Horseback Riding
• Mapuche Trip – Budi Lake
 Wine Tours
 Roadtrips North Chile
 Culinary Experiences
 Alpacas in Rio Hurtado
 Valparaiso
 Santiago-Valparaiso – Wine and Hiking
 High Mountain Expeditions
About the Company
We are a Tour Operator for adventure tours all around Chile – aware of the importance of the environment that surrounds us and that we can be an important agent of change for sustainable development in the Andes around Santiago and throughout the country.
Our portfolio contains several prearranged trips, which can be booked direct-ly at our website, but one of our aims is to offer completely customised ex-cursions and trips for travellers. Therefor we´re always working on new ex-periences and on discovering new sights to be able to show all the hidden gems of the rich and diverse nature chilis.
Our company is characterized by a young, dynamic and multilingual team. Our guides are professional climbers, nature loving and open people – who target to show Chile from a different perspective. Our manager Víctor Tron-coso is a specialist in ecotourism and mountaineer, with more than 12 years of experience in mountain guiding, logistics and environmental education.

3. Quimbaya Latin America
Contact: Tiziana Damioli
Position: Sales Director Europe
Mail: tiziana-damioli@quimbaya-tours.com
Phone: (+56) 2 2232 96 44
Web: www.quimbaya-tours.com , www.visit-latin-america.com
Address: Avenida Nueva Providencia 2134, Oficina 602, Santiago, Chile
Products to offer:
• Incentives, seminars & conventions
• A la carte requests for FITS and groups
• Multi-country packages
• Guaranteed Deepartures, Series, SIC
• Productions for media and TV
• Trips with themes
About the Company
In 1987, Claudia and Jean Terrade opened the Colombia Incoming offices, to introduce this new destination to French travelers. They named it QUIMBAYA, the name of an ancient pre-Colombian civilization. Since, time has passed, QUIMBAYA has grown and blossomed attracting more travelers around the world to 11 destinations in Latin America.
Today, our team is 120 people, located within 3 sales offices and 11 Incoming offices in Latin America : the largest DMC in Latin America with its own local offices. One same company.
Our teams: multi-languages specialists, all committed to the same company, they have field experience and high level technical skills. They will know how to guide you through your best choice for your tours and most importantly make the right choice for your client.
The VISIT LATIN AMERICA brand provides information and advise to travel professionals about Latin America destinations such as hotels, restaurants and special places to visit. The brand communicates through the web site visit-latin-america.com and with a magazine published three times a year.

4. Turismo Milodon
Contact: Ignacio Molina
Position: Incoming Department Manager
Mail: incoming@milodon.cl
Phone: (+56) 2 2367 14 23
Web: www.milodon.cl
Address: Avenida Vespucio Sur 700, Oficina 804, Las Condes, Santiago, Chile
Products to offer:
• Patagonia – Torres del Paine
• Santiago & Valparaiso
• Atacama – San Pedro
• Lakes & Volcanoes
• Easter Island
• Patagonia & Tierra del Fuego Cruises
• Patagonia – Carretera Austral
About the Company
22 years of experience in tourism (created in 1997). Vast and successful experience in FIT, group and incentive tours in Chile and bordering countries.
Each of Turismo Milodon proposals approach the visitors with unforgettable experiences to Chilean unique culture and nature.
Turismo Milodon know how to impress clients with their services and incredibles landscapes of Chile: Santiago, Patagonia, Atacama Desert, Lakes and Volcanoes Zone and Easter Island.